Tripawds is a user-supported community. Thank you for your support!
Friday 7/7/17
We started giving Maceo Turkey Tail mushroom. Today, we were able to get in 1.5 capsules (750 mg) of Turkey Tail, and 2 scoops of Transfer Factor, which also contains Turkey Tail among other mushrooms as part of its immunity blend.
Total supplement intake:
750 mg Turkey Tail mushroom
2 scoops Transfer Factor
200 mg IP6
100 mg curcumin longvida
1 tea pill of Chai Hu Shu Gan Wan (bupleurum), prescribed by Dr. Lisa Pesch
Total food intake:
4 blocks of Primal Chicken & Salmon — 180 cal
1/4 cup homemade chicken bone broth — 20 cal
1/4 cup Origen kibble — 20 cal
1/4 cup raw pureed chicken liver — 50 cal
Spoonful of grain-free canned food
A couple of treats
Total calories: 270 cal
It's been two weeks since we discovered the tumor. Yesterday, we saw a surgical oncologist, James Farese, to talk about surgical interventions for Maceo's tumor. He recommended getting radiation first, so we are proceeding with the UC Davis appointment on Monday, but we also called the Veterinary Cancer Group of LA to have a backup and get a second opinion, given the extremely negative reviews of the Davis clinic.
He seems to be ok. He has been going out on the harness and leash for multiple hours a day, sometimes walking, other times just relaxing, and he even slept in the bed with us again the whole night. He didn't just stay in his "sick chair," the place where he goes when he's unwell.
Charlie
In the meantime, baby Charlie seems to be feeling bad.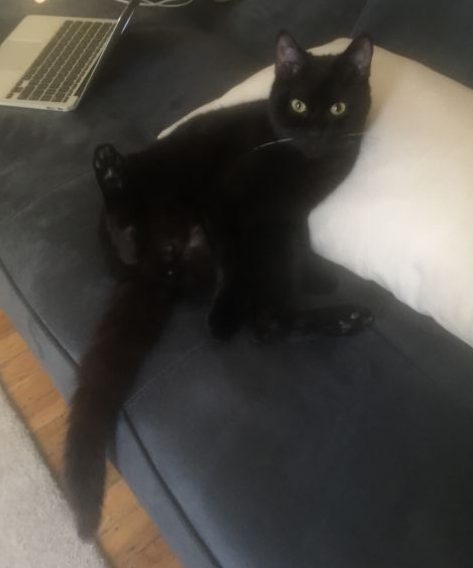 Yes, he is also a black cat. But unlike Maceo, he is goofy, clumsy and generally very clownish. He also has very mild cerebellar hypoplasia which makes him extra silly when he's excitedly running around, and sometimes his back legs slip out from under him.
He started vomiting (multiple times) and generally seems to not feel good. We took him to a completely useless vet — Especially Cats Veterinary in San Francisco — yesterday for his wrist, and the only thing that came of it was 1) he got carsick and threw up in the car, inside his kitty backpack carrying case, and 2) we were told that by the vet that she had no idea, couldn't successfully do a needle aspiration on his wrist, and that we should go and see an internal medicine specialist at VCA.
I'm not sure if I just have had too high expectations for how much veterinarians should be able to tell you, but I've been so disappointed every single time. We've taken Charlie twice to SPCA, once to an expensive dermatology specialist, and now once again to this cat-only clinic, and his foot issue is completely unresolved. We don't even have one speck of knowledge more, and nothing close to a diagnosis. I guess it's time to take things into my own hands with Charlie as well.
His wrist is so swollen that it looks like a boot. He's drinking lots of water, willing to eat, but then vomits again. Poor thing.